Have You Reached A Red Sea in Your Life?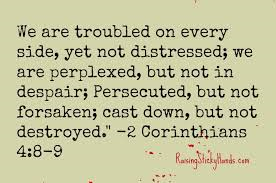 "One of the most dramatic stories in the bible is the episode of the children of Israel crossing the Red Sea. Moses was leading them out of the land of Egypt where they were kept in bondage and slavery. They were being pursued by the Egyptians.
We might say that Moses pounded faith into the children of Israel. They preferred being slaves to their old doubts and fears (for Egypt stands for darkness), than to take the giant swing into faith, and pass through the wilderness to their Promised Land.
There is, indeed, a wilderness to pass through before your Promised Land is reached. The old doubts and fears encamp round about you, but, there is always someone to tell you to go forward! There is always a Moses on your pathway. Sometime it is a friend, sometimes intuition!
"And the Lord said to Moses, why do you cry unto me? Speak unto the children of Israel, that they go forward!"
Now, remember, the bible is talking about the individual. It is talking about your wilderness, your Red Sea, and your Promised Land. You have a heart's desire, but you have been so enslaved by the Egyptians (your negative thoughts and behaviors), it seems very far away and too good to be true. You consider trusting God a very risky proposition. The wilderness might prove worse than the Egyptians.
Go Forward!"
"GOD'S WAYS ARE INGENIOUS, HIS METHODS SURE. GOD MAKES A WAY WHERE THERE IS NO WAY, I AM DIVINELY LED."
"I GIVE THANKS FOR THIS PERFECT DAY! MIRACLE SHALL FOLLOW MIRACLE AND WONDERS SHALL NEVER CEASE!"
The stories of the Bible were designed as examples for us to learn from in our lives today. These stories are metaphors for us to discover how it applies to our lives and circumstances now. The Bible contains powerful lessons and is a guide; teaching us proper principles and The Natural Laws of the Universe. One of the key commandments is to listen to the still small voice within.
Like the Israelite's enslaved in Egypt, we are enslaved by our ego, negative thoughts, programming and behavior. Everything we need to learn is within us. In our hearts and souls we discover the truth. Our hearts, souls and intuitive minds are the link to God, Infinite Intelligence and the Wonders of the Universe.
The way out is in. Stop looking outside of yourself for answers, enlightenment or for someone or something to save you. The answer lies within your heart and consciousness.
smiles,
🙂 Lee