Have you asked God this in Prayer?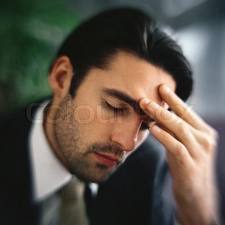 When I was considerably younger than I am today, I used to think I was lucky; fortunate not to often get upset or worried like individuals I noticed around me. Then I met the real world – the demanding boss, the troublesome colleague, the awkward neighbor – and I realized I could get as emotional as the next person. I do feel irritated when things go wrong; I do get angry when people are inconsiderate; I do find myself nervous in unfamiliar social situations.
Just as I am writing these words, I am very much aware of a telephone conversation in an adjoining room. I cannot hear the words but I'm half listening to the tone of voice of my wife as she is talking to someone we are fond of who is having a bad time of things just now. So I'm naturally concerned. It's distracting my mind. I feel uneasy, unsettled, even anxious.
Times of quiet
We get so immersed in the hectic daily round that we forget those past occasions – perhaps infrequent and brief ones – when we actually felt content with life, and there was a sense of inner peace. Only when we concentrate hard do we vaguely recall having had that state of mind – when the stress of everyday life was forgotten, when we were becalmed in what had been a stormy sea, and when we sensed a harmony with everything around. Those were the times when we felt we had found refuge and protection from the conflicting and unsettling pulls of what was going on around us.
People ask, 'How does one engineer this sense of calm in the muddle, disarray, and emotions of daily life, when one feels anything but tranquil?  When I think about it, these moments of inner quietness for me have occurred in prayer.
I'd love to talk in a simple down to earth way about such times. But mere words seem so inadequate. The experience of profound stillness is so different from ordinary consciousness.
The divine presence within
Other people who have talked about such peaceful moments may have travelled a different path but I can't separate these special moments from my religion. A Divine state of peace comes from a 'place' deep within oneself and yet it is also an inflowing presence from above. This probably sounds a bit odd if you are not of a religious persuasion, but all I can say is it is very real for me.
The trouble is I'm not sure whether I want to tell others about it even if I could find the right words. The sense of the Divine Presence while conversing with God feels such a personal and private matter. The mystics have been willing to put it into words, but for me it seems like betraying a secret as if one were telling people about an intimate moment with one's lover. For love seems to me to be the essence of that inner sense of peace; feeling fully accepted — warts and all, fully embraced by the unconditional compassion and mercy of selfless love.
Obstacles
This is a very different picture of God to that of the old religion based on a literal understanding of the Bible. For the traditional idea of a judgmental, punitive, vindictive God is not my religion. It is not a picture of God that I could turn to for rest and peace, but rather one to turn to in fear and guilt; for we don't find inner peace by condemning ourselves.
I think that perhaps another obstacle to experiencing inner calm is our negative reactions to other people. I've found that only when I give up mulling over unwelcome things said by others can I hope to experience the peace of forgiveness. In a state of anger, peace cannot be found. For only when we bring peace to others, can we find peace within ourselves.
Also I would suggest that it's no good praying merely to get confirmation for our own views about things. We need also to be prepared to have our eyes opened.
Prayer working
Prayer is like any worthwhile conversation; it has its awkward moments when we realize we have said something daft or unfeeling or when we realize the full implications of some casual comment. What counts is what comes from the heart and not whether we are using smooth phrases.
For me, prayer is the focusing of one's thoughts on the Christ within and this must necessarily involve our whole being. Only then can we become fully in touch with the Divine Peace that passes all understanding.
My own problem is one of complacency. Things go along hunky dory for a while, life seems to be running smoothly, and I forget to make contact with the Source of peace. Thinking about it, I realize that repeatedly, it's usually only when I hit the rocks and suffer hurt and sorrow that I spend sufficient time in prayer. For only then do I really try to surrender my own ideas and hopes. Only then do I really ask about what God wants in the circumstances I find myself in. And only then do I get an answer which gives such a sense of serenity.
We don't find rest from problems unless we speak with God sincerely, fully opening ourselves to His Divine Presence.
-S.  Russel-Lacy
-S. Russel-Lacy, About, Above, Accept, Acting, action, actions, Actual, actually, adjoining room, aid, Also, Anger, Angry, Another, Answer, Anxious, Anything, AR, Around, Arts, Aware, awkward moments, awkward neighbor, bad time, Based, Become, Been, Being, Boss, brief ones, Bring, but, Call, calm, Can, casual comment, Chris, Christ, circumstance, circumstances, Class, Come, comes, compassion, condition, Conflict, cons, Conscious, Consciousness, Consider, Contact, Could, Count, Counts, Daily, daily life, Day, Deep, demanding boss, Different, different path, different picture, Disarray, Divine, Divine Peace, divine presence, Divine state, Don't, Down, earth, Easy, embrace, emotion, emotional, emotions, EPA, Eve, Even, Ever, Every, Everyday, everyday life, Everything, Experience, eyes, familiar, Fear, Feel, feeling, FEELS, Find, Flow, focus, Forge, Forget, forgive, Forgiveness, Forgotten, Fort, Found, From, full, Give, given, Gives, God, Going, good, guilt, half listening, Hard, harmony, has, Have, Having, Hear, Heart, Here, Hole, Holy Bible, Hope, HR, hunky dory, Hurt, I've, Idea, ideas, IGN, Illness, individual, Inner, inner calm, inner peace, inner quietness, inner sense, intimate moment, into, Involve, It's, Join, judgment, Just, King, LA, lace, League, Less, life, Like, list, Listen, literal understanding, Long, Love, luck, M., Make, man, Mate, matter, me., men, Mental, Mercy, mère, mere words, mind, mom, Moment, moments, Much, Must, Natural, Need, Negative, negative reactions, Neighbor, Ness, Next, NFL, OB, Occur, Often, old religion, once, Ones, Only, Open, Opening, ordinary consciousness, others, over, passion, past, past occasions, Path, peace, Peaceful, peaceful moments, People, person, Personal, Phrase, picture, place, pray, Prayer, Prayer work, Prayer working, Praying, Prepare, presence, private matter, Probably, Problem, Problems, Profound, profound stillness, Protect, Protection, Pull, Quiet, quietness, R., race, rally, Reactions, Real, real world, Really, Refuge, Religion, Religious, religious persuasion, Rely, rest, Right, right words, Ring, Rock, Room, Round, Running, SC, sea, Secret, Seem, Seems, Self, Selfless, selfless love, Selves, sense, Separate, side, Simple, sin, sing, situation, situations, smooth phrases, SO, Social, Some, someone, Something, son, Sound, source, Speak, Special, special moments, Spend, stand, state, still, Storm, stormy sea, Stress, Strong, Style, Such, Suffer, sufficient time, Sure, surrender, Talk, Talking, telephone conversation, Tell, Text, Than, the, There, These, thing, things, Think, thinking, This, Those, thought, thoughts, Time, Times, Today, Tone, Touch, tradition, traditional idea, Travel, Travelled, Trouble, troubles, troublesome colleague, Turn, unconditional compassion, Under, Understand, understanding, unfamiliar social situations, Unless, Unsettling, unsettling pulls, unwelcome things, ups, US, used, Usual, Vague, very, View, Voice, Want, Wants, way, Welcome, Were, Whole, wife, Willing, Within, Word, Words, Work, Working, World, Worried, worth, worthwhile conversation, would, Writing, Wrong, young