God has Been Sounding His Alarm..Do You Hear it?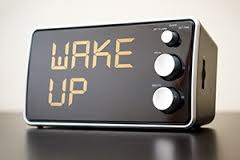 Each morning is pretty much the same. I am stirred from a tranquil state of physical inactivity to a state of panic and then activity. This stirring takes place because of the sound of the alarm that comes from my phone.
I am not a victim of this experience. On the contrary, I willingly cause this event to take place every day of my life. Because I desire to accomplish things in the morning more than I desire the comfort of sleep, each night before I go to bed, I set the alarm on my phone to go off and sit it next to me.
DN Valentines Ad Soliciation
While there are days that I do not want to get up or even do the activity I am called to, I know it is best and right for me.
Often, the things that we do not want to do are the best things we can do. The discipline to do difficult things brings a blessing that comfort never can.
So each night, the time on the alarm is set and each morning I am beckoned from a state of slumber into a state of activity. The immediate sound is unpleasant. It often causes me to jump, but that is the job of an alarm. If the sound brought only comfort, then it wouldn't be much of an alarm. It is the demand of the call that creates the stir to activity.
God has graciously given an alarm that we can use every day. It is the Bible. Like an alarm clock, it calls us from one state of being to another. Through the power of its author – the Holy Spirit – we are called from a state of spiritual slumber to a state of eternal wakefulness. While the implications of the activity have everlasting implications, the steps and specific required activities are often simple and straightforward.
We read in Romans 13:11–12, "… the hour has come for you to wake from sleep. For salvation is nearer to us now than when we first believed. The night is far gone; the day is at hand. So then let us cast off the works of darkness and put on the armor of light."
God calls His people from the spiritual darkness of sin that we are all born into and calls us to a state of wakefulness to the presence, power and love of God.
Without the alarm, there is no hope of waking. The alarm of truth is necessary to call a person from the darkness into the light. The alarm of truth is necessary to call a person from spiritual slumber into Gospel wakefulness.
There are many nights I find myself concerned about the capacity of the alarm to wake me up. There is never a need to fear the power of the Bible to do the job. God promises. "… my word that goes out from my mouth; it shall not return to me empty, but it shall accomplish that which I purpose, and shall succeed in the thing for which I sent it" (Isaiah 55:11). "For the word of God is living and active, sharper than any two-edged sword, piercing to the division of soul and of spirit, of joints and of marrow, and discerning the thoughts and intentions of the heart" (Hebrews 4:12).
Like an alarm clock, the Bible must be used rightly. Just as an alarm clock must have a set time and place, so must the study of God's word.
The Bible provides both prescribed and described times that we are to use in order to enjoy the benefit of God's call from darkness to light.
The prescribed time is in a local church during a time of corporate worship. At this time, the congregation is commanded to come together and praise God for who He is, to pray to God for His mercy and grace, and to hear from God through the preaching of His word.
The described times are suggested in God's word. While Jesus was known to rise early to be alone with God and hear from him, King David was known to seek God in the morning, noontime and at night. When we study is up to us.
God desires to call us from a state of slumber into a state of spiritual vitality. In order to receive the benefit of that calling, we must set a time and place to study God's word. The study may not always be comfortable, and what it requires us to do may not always be easy or what we would choose, but what God wants for us is always the best. To discover His glorious will and to come alive to the blessings He has for us, we must wake up through studying and obeying the Bible.
By Jason Pettus senior pastor at Living Hope Baptist Church
Want to read or listen to the Bible? Click the below link and either read or listen to the Bible daily! Spend atleast 5 mintues or more with God for the next 31 Days and watch your life begin to change and turnaround! (Click on the button at the top next to the Aa if you want to listen instead of read the Bible)