Don't Worry about A Thing, Have Faith in God!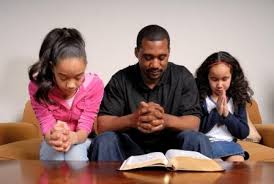 "When you thank God for something after it happens, that's called gratitude. When you thank God for something before it happens, that's called faith." — Rick Warren
Albert Anson is a Godly man.
And when a Godly man wants to tell you a story, you listen.
Our pastor, the Rev. Mike Washburn, has launched a sermon series about the 23rd Psalm. This is one of Albert's favorite portions of Scripture.
Why?
For one, Albert has a history with this Psalm.
Years ago, he and his wife, June, were facing some tough times. Both worked at the former Campbell Soup Co. in Fremont. Albert worked nights and June worked days.
One day, a manager called the employees together and said the local plant would change from a five-day to a four-day work week.
Albert wondered how he and June were going to make it on four days' wages. They had payments to make on their mobile home, along with lot rent and utilities.
The next morning, Albert sat at the kitchen table with his Bible, knowing that God speaks through his word.
"I'd better see what the Lord wants to tell me about the whole thing," he thought.
Albert wanted to rely on the Lord's provision.
"I'm strong on faith in that regard," he said.
So Albert opened his Bible and prayed: "Lord, they're going to cut us to four days a week. I've got to have your promise. Show me in your word what your promise is."
A thought came to Albert's mind to read the 23rd Psalm. He read that along with other Scriptures.
Sometime earlier in life, someone told Albert to put his own name into Scriptures that stated the promises of God — to make them personal.
Albert said the Holy Spirit then spoke to his heart to read the 23rd Psalm again, inserting his name into the Scriptures.
So he read the Psalm this way:
"The Lord is Albert's shepherd, I shall not be in want. He makes Albert to lie down in green pastures, he leads Albert beside quiet waters, he restores Albert's soul…."
Albert slowly read through the entire 23rd Psalm, inserting his own name throughout.
Before he finished reading, Albert sensed the Holy Spirit and began to rejoice.
"I knew (God) was going to supply all of our needs, regardless of what happened," Albert said.
"Thank you Lord," Albert prayed. "That's your promise and I'm going to stand on it."
Albert sat for about 10 minutes, praising and thanking the Lord.
Then Albert did something else.
He walked through his home and placed his hands on his cupboards.
"Thank you Lord for your provision," he prayed. "I know these cupboards are going to be full."
A couple days later, the plant workers were called into another meeting.
This time, they were told the plant was going to stay open five days a week and that there was going to be overtime.
The plant ended up being open six days a week for a long time.
Eventually, the local plant did close, but not before Albert had a 25-year tenure. June worked for Swanson and Campbell Soup for 38 years total.
Albert says the 23rd Psalm experience increased his faith.
Now, I realize that Albert's experience doesn't happen to everyone. Many times, plants do close or cut hours. Godly people pray and still lose their jobs.
But I think one of the lessons we learn from Albert and the 23rd Psalm is that we don't have to be afraid when tough times come — when we place our trust in God.
The 23rd Psalm teaches us that the Lord will take care of us. He'll restore our souls. He'll guide, protect and comfort us.
I also love Psalm 28:7 which says: "The Lord is my strength and my shield; my heart trusts in him, and he helps me. My heart leaps for joy, and with my song I praise him."
As we learn about God's character through his word and see him work in our lives, we can come to trust him.
Hearing stories of other Christians, like Albert, can help our faith grow, too.
In his sermons, Pastor Mike has talked about the importance of developing a trust relationship with God. He's talked about learning to be content, trusting that God knows and gives what's best for us in his timing.
Pastor also has talked about the importance of rest and meditating on God's word.
We can ruminate on things like failures, bad things people have said or done to us, financial or other problems. Or we can ruminate on God's word.
In a recent sermon, pastor reminded us of two of my favorite Scriptures.
One is Philippians 4:8, "Finally, brothers and sisters, whatever is true, whatever is noble, whatever is right, whatever is pure, whatever is lovely, whatever is admirable — if anything is excellent or praiseworthy — think about such things."
The other is the first part of Psalm 1, which reads: "Blessed is the man who does not walk in the counsel of the wicked or stand in the way of sinners or sit in the seat of mockers. But his delight is in the law of the Lord, and on that law he meditates day and night. He is like a tree, planted by streams of water, which yields its fruit in season, whose leaf does not wither, whatever he does prospers."
To me, Albert is like that tree, firmly rooted in the love of his God.
A postscript: I believe that even if Albert's hours had been cut at the plant, God would have provided for him in some way — whether it was with a part-time job or reduction in a monthly payment or something else. And Albert would have praised God for it.
Shared with you by Tammy R. McKeighan  – news editor of the Fremont Tribune.
Copyright 2014 Fremont Tribune. All rights reserved.